For Prospective Applicants:
Join UCSF Neurosurgery faculty and current residents for a monthly virtual program designed to introduce prospective applicants to our residency program and department, in lieu of in-person visits.
These events are open to 4th year medical students applying to residency programs this fall. Please note that you must be a U.S. citizen to join.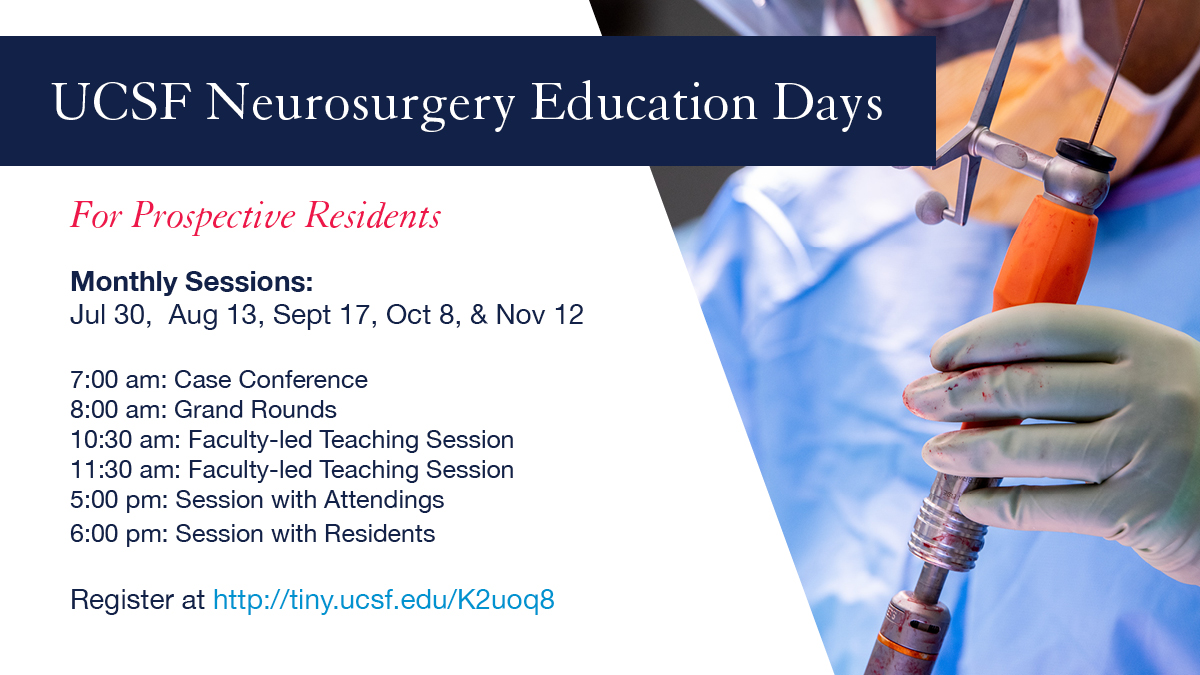 UCSF Neurosurgery Education Days will be held on the following dates:
To register for any or all the events in this series, complete the form at http://tiny.ucsf.edu/K2uoq8. Zoom details will be provided via email. 
---
About the Program
The UCSF Neurosurgery Residency Program is committed to training the next generation of academic neurosurgeons who will continue to advance the field.
Since it was established in 1934, the UCSF Neurosurgery Residency Program has grown into a seven-year, innovative program that ensures a thorough immersion in every sub-specialty of neurosurgery. The program focuses on teaching the most cutting-edge practices in both research and clinical medicine, while encouraging residents to take advantage of the many collaborations the Department has established to train them on how to work in an academic environment. Over 74% of our graduating residents go into academic neurosurgery. We consider the training of academic neurosurgeons a responsibility and our contribution to the vitality and advancement of our discipline.
We are consistently ranked as the #1 neurosurgery residency program in the country, and offer a rigorous, comprehensive program that includes both clinical and laboratory training.
The strengths of our clinical training include the large volume of cases treated at our hospitals, encompassing a wide spectrum of neurosurgical disorders. Residents will rotate through services at:
 UCSF Medical Center
 Zuckerberg San Francisco General Hospital and Trauma Center
 San Francisco Veterans Affairs Medical Center 
 UCSF Benioff Children's Hospital San Francisco
UCSF Benioff Children's Hospital Oakland
As the field of neurosurgery becomes increasingly subspecialized, residency training at UCSF has shifted to provide immersion into these various subspecialties. Residents will rotate through services in:
Cerebrovascular Disorders
Brain Tumors
Epilepsy
Neurotrauma & Neurocritical Care
Movement Disorders
Pediatric Neurological Disorders
Peripheral Nerve & Pain
Radiosurgery
Spinal disorders
Our research program represents a wide range of interests, with both clinician scientists and basic scientists interested in disease-based research. We are the #1 awarded institution for NIH funding in neurosurgery research. 
UCSF is consistently ranked as the #1 neurosurgery residency program.
Source: Doximity
We are the most academically productive residency program in neurological surgery.
We are the #1 recipient of neurosurgery research funding from the NIH.
Source: BRIMR