"I want a puppy."
Those were the first words 13-year-old Bobby Stallworth said as he slowly awoke from brain surgery at UCSF Benioff Children's Hospital in San Francisco.
It was a relief for Bobby's parents to hear him speak. Just four months prior, Bobby lost his ability to talk along with the use of his right arm and leg after an abnormal tangle of arteries and veins, called an arteriovenous malformation (AVM), ruptured in his brain. While AVMs in children are extremely rare, representing only 3% of the 3,000 AVM cases diagnosed every year, they tend to rupture more frequently than in adults and can result in serious complications. 
Bobby's AVM was discovered after he collapsed at home and went to the emergency room in Richmond, Virginia, where a CT scan revealed a brain bleed in the left frontal lobe, an area responsible for speech and motor function. An embolization, a technique used to reduce blood flow to the AVM by obstructing surrounding blood vessels, was conducted to stop the bleed. While embolization can stop bleeding in the brain after rupture, it does not remove the AVM or prevent it from rupturing again in the future.
After waking up from a medically induced coma, the golf and chess-loving, straight-A student spent over a month at an inpatient rehabilitation facility. Meanwhile, the Stallworths were advised to let the AVM heal before considering surgical treatment options that would prevent the AVM from re-rupturing.
"Local surgeons whom we consulted with were concerned that surgery would result in additional loss of speech or walking," said Bobby's father, Robb. "By then Bobby was just beginning to regain his skills, so we were extremely fearful."
Throughout this experience, Robb would lean on social media to share Bobby's story, garnering an outpouring of support from the AVM community, including The Aneurysm and AVM Foundation (TAAF), a non-profit patient advocacy group. It was through that community that the Stallworths learned about UCSF's expertise in AVM surgery and connected with vascular surgeon Adib Abla, MD, who determined that Bobby would make a good surgical candidate.
"As leaders in vascular surgery, we've seen many cases from around the country where surgery is not met with enthusiasm by the initial care team," said Abla. "We are a high-volume center at UCSF and have extensive experience in treating and caring for the most challenging cases. After reviewing Bobby's case, I was confident we could target the AVM and avoid permanent damage."
The Stallworths were encouraged by this optimistic assessment. "Dr. Abla was the tipping point for us. He was helpful and compassionate, and the prompt response from the UCSF team solidified our decision to travel to San Francisco for a cure," Bobby's mother Holly said.
The multidisciplinary team of pediatric specialists involved in Bobby's care also included pediatric neurosurgeon Nalin Gupta, MD, PhD, and neurointerventional radiologist Steven Hetts, MD.
"We used an imaging technique called tractography to identify Bobby's speech and language pathways," Gupta said.  "This allowed us to visualize the relationship of his AVM to his speech and motor function and tailor the resection during surgery to hug the AVM very tightly to avoid further injuring those pathways."
Another advanced technique used during Bobby's surgery was intraoperative angiography. In UCSF's state-of-the-art hybrid-angiography operating suite, the surgical team can obtain high-quality angiograms (an x-ray of the blood vessels) in the operating room, allowing them to assess the brain's blood flow and ensure normal flow had been restored prior to completing the operation. Without an intraoperative angiogram, patients generally undergo a second procedure for the angiogram and, if needed, schedule another surgery for revisions.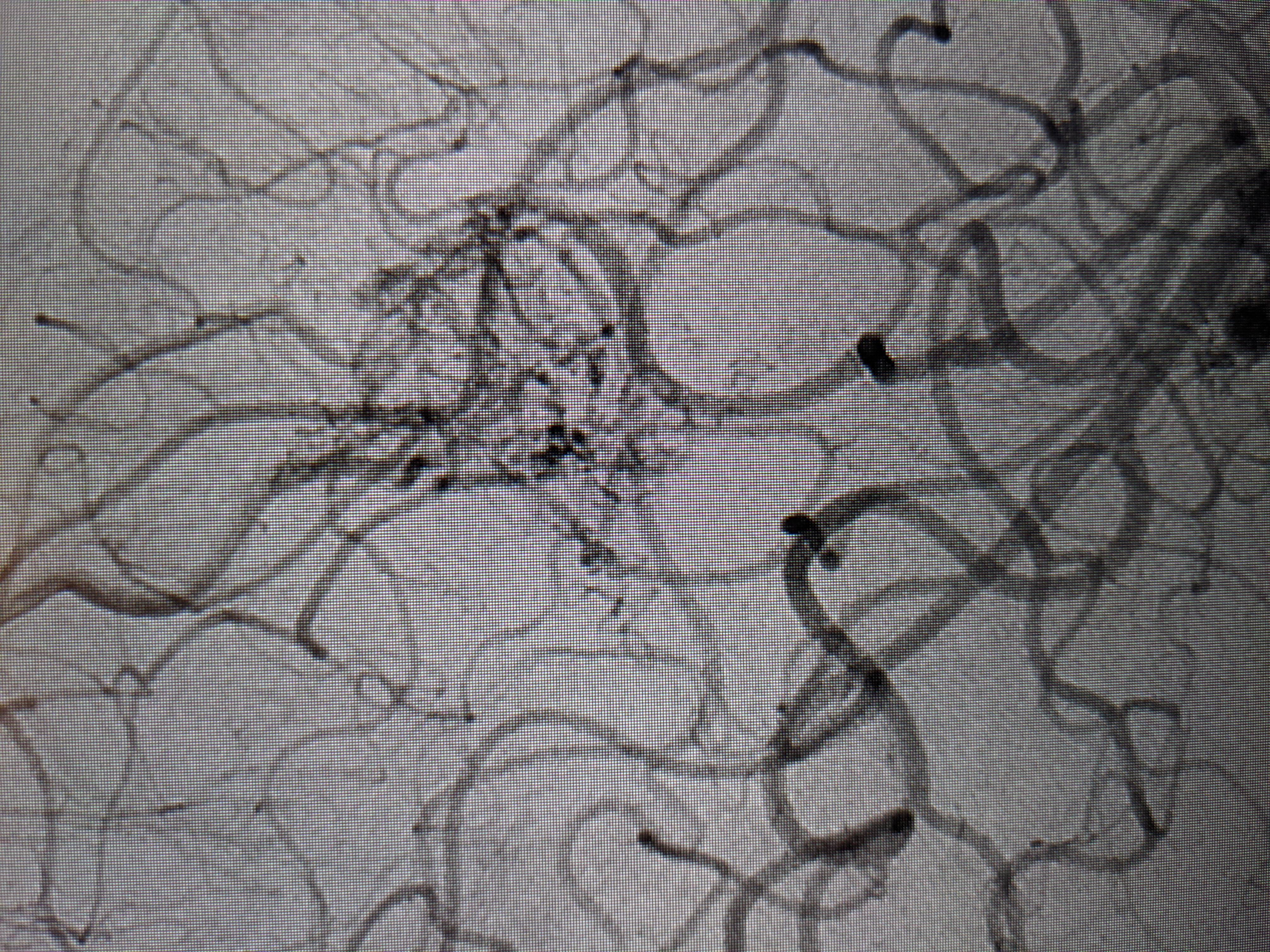 "From talking to past UCSF patient families, we felt that Bobby would get the same level of care and compassion at the hospital. UCSF Benioff Children's is not only a beautiful hospital, but the intraoperative angiogram meant fewer procedures for Bobby," said Holly.
The next morning, Bobby woke up and asked for a puppy. The family flew home a week later. Bobby continues to improve in all areas with rigorous therapy. He can walk, run, and has even resumed golf lessons.
"We feel so lucky that his language is starting to come back," said Robb. "We are so proud of his determination, confidence, and humor. We love him dearly. He is the best storyteller in the family."
"Surgery is the most immediate and durable cure for AVMs compared to radiosurgery and embolization. Our expertise coupled with our hybrid angiography operating suite, UCSF is a leading national center for brain AVM surgery and care," said Abla.
"The support network around Dr. Abla was phenomenal. He was an amazing surgeon and very confident in his approach," said Holly.  "Dr. Gupta was fabulous. He's a great communicator and realistic about Bobby's prognosis. Together, they make an amazing team at UCSF."  
As for the puppy?
Meet Spencer.