With an estimated 300 new cases diagnosed each year in the United States, chordoma is a rare tumor that occurs in the brain or spine. However in the past year, UCSF neurosurgeons have treated several patients with chordoma, each requiring complex surgical procedures to remove the tumor.
Published today in Neurosurgical Focus,1 a multidisciplinary team of neurosurgeons, cardiothoracic surgeons, and orthopedic surgeons at UCSF describe a rare case of thoracic chordoma, which required an unusual approach and uncommon technique to resect.
Unlike chordomas that arise in the skull base, spinal chordomas are often larger at diagnosis, given that there is more space for the tumor to grow over many years, before it compresses critical structures and manifests symptoms. However, spinal chordomas also lend themselves to 'en bloc' resection, in which the tumor is extracted in a single piece. 
"For spinal chordomas, en bloc resection provides the best prognosis for disease-free survival," said co-author and neurosurgeon Dean Chou, MD. By removing the tumor whole, the spread of residual cells and likelihood of recurrence is greatly reduced. 
Indeed, Chou strongly recommends to any referring physician, "If you suspect it may be spinal chordoma – even if there is a remote chance  – get a CT guided biopsy first." To operate on the tumor and remove it piecemeal would impact recurrence and ultimately be detrimental.  
The best surgical approach to achieve en bloc resection often depends on the size and location of the tumor. The most recent case at UCSF involved a 20-year-old female patient with symptoms including shortness of breath and wheezing. Imaging later revealed an 8-cm mass spanning 3 spinal disc levels, specifically T2-4, of her thoracic spine. 
Once biopsy confirmed a diagnosis of chordoma, the surgical team, led by neurosurgeon Praveen Mummaneni, MD, began planning for en bloc resection. Thoracic chordomas, which comprise only 1% of all chordomas, can require an anterior approach, in which the chest cavity is accessed with a standard thoracotomy. However, in this case, the tumor had invaded both the right and left chest cavities, as well as the central mediastinum. 
Together with cardiothoracic and orthopedic surgeons, Mummaneni and Chou decided on a bilateral clamshell thoracotomy, a major operation that exposes the entire chest cavity and required collaboration and expertise across multiple specialties. 

"The clamshell thoracotomy, so-named because of its striking visual appearance in the operating room, is generally the domain of double-lung and heart-lung transplantation. Chest surgeons, however, may also call upon the technique when faced with large bilateral tumors, as in this case, or the very occasional bilateral chest trauma," said UCSF cardiothoracic surgeon and co-author Michael Mann, MD, who also participated in the case. 
Altogether, the massive operation took nearly 12-14 hours and a team of multiple surgical specialists including neurosurgery, orthopedics, and thoracic surgery, to complete. 
"A multidisciplinary surgical team is needed to remove chordomas from the thoracic spine when the tumor is abutting the heart and lungs and invading the spinal canal," said Mummaneni. The team started with a posterior approach, performing a T1-5 laminectomy and T1-2 and T4-5 discectomies with C5-T8 instrumentation to remove and stabilize affected portions of the spine. The patient was then positioned for the clamshell thoracotomy, and the team achieved successful en bloc resection of the tumor.
Earlier this year, Mummaneni and team treated another patient with a chordoma at the junction of the thoracic and lumbar levels. In this case, the tumor did not require a clamshell thoracotomy, however a complex two-part surgery involving a posterior and anterior approach was necessary. Overall, no matter where in the spine these tumors occur, chordomas require complex and technically demanding surgical approaches.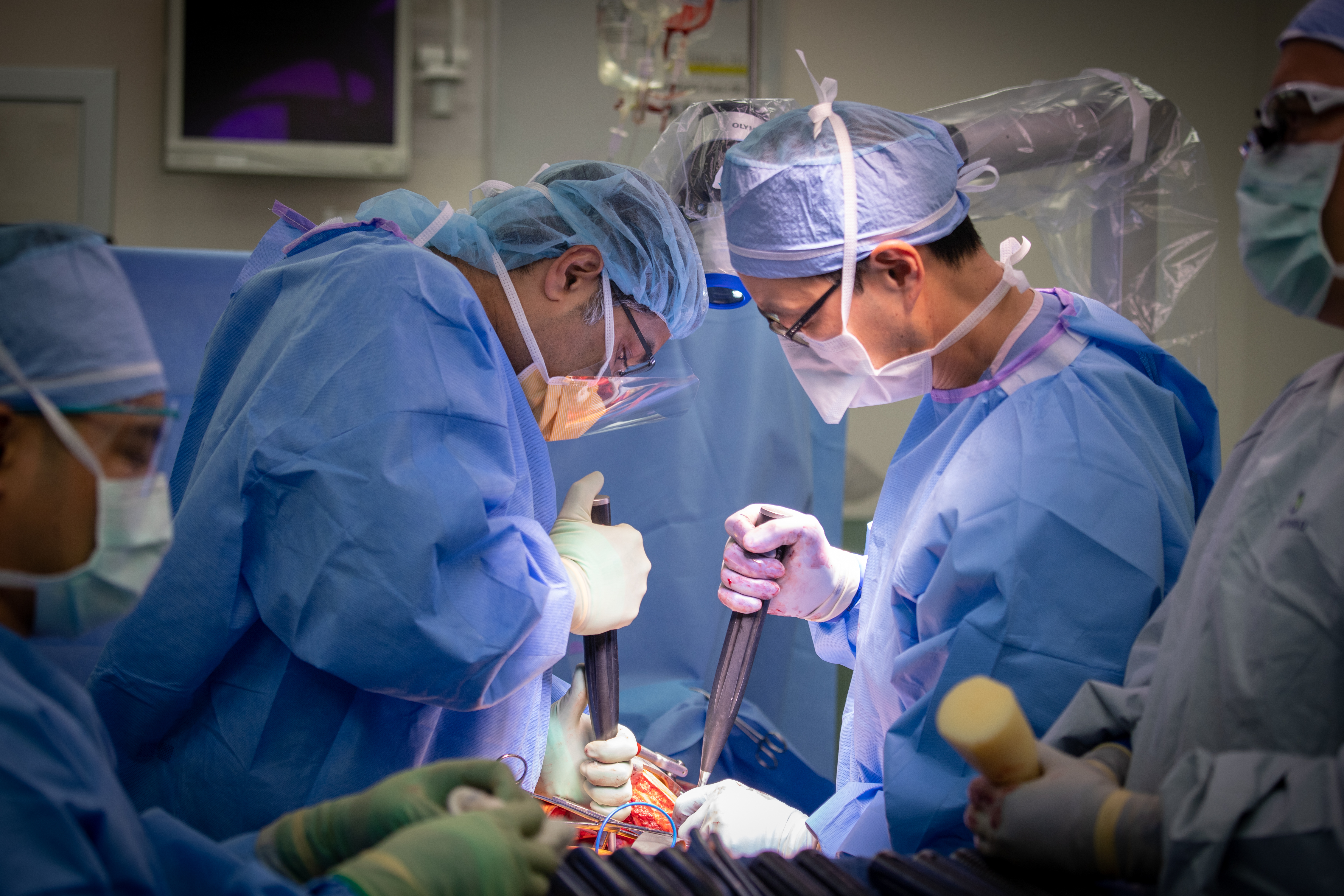 According to Chou, a large medical center might see two to five chordoma cases per year, with a neurosurgeon seeing less than 50 chordomas in their entire career. Often, the complicated procedures require expert, multi-disciplinary collaboration across surgical specialties.
Collaboration across departments at UCSF has also led to numerous research publications on chordoma.1-5 For example, Mummaneni, together with UCSF neuropathologist Joanna Phillips, MD, PhD, developed a novel preclinical model for recurrent chordoma.3 Using mice implanted with human chordoma tissue, they generated a patient-derived xenograft model that recapitulates key molecular features of chordoma. Especially for rare diseases like chordoma, preclinical models are critical for advancing not only our understanding of these tumors, but also the investigation of future therapeutic options.
In recent years, Chou, working with urologist Donna Deng, MD, also developed an improved surgical technique for removing sacral chordomas.5 The procedure greatly enhances quality of life for the patients, allowing for en bloc resection while sparing critical nerves that control bowel and bladder functions.
Together with experts across UCSF, our neurosurgeons are continually refining treatment for patients with chordoma. "These are very complex operations," said Chou, "and you want a team with many years of experience performing these procedures."