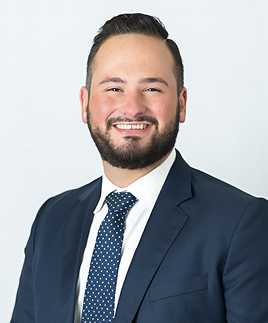 This October, physiatrist Kevin 'Buzz' Barrette, MD, joins the UCSF Department of Neurological Surgery and the team at the UCSF Spine Center. Dr. Barrette specializes in treating patients with back pain, developing customized treatment plans which may include physical therapy, targeted injection, nerve ablation, and other minimally invasive procedures.
Dr. Barrette, who grew up in Worcester, MA, earned his medical degree at Boston University. He then completed residency in Physical Medicine and Rehabilitation, followed by an Interventional Spine Fellowship, both at Stanford University. This Fall, Dr. Barrette joins the UCSF Department of Neurological Surgery as Assistant Professor.
Here he gives us some insights into his treatment philosophy and the middle ground between uncontrolled pain and a major procedure.
Physiatry: A Patient-Focused Philosophy
I was first drawn to physical medicine and rehabilitation as a field in which the goal of every clinical encounter is to optimize function of the patient. In this respect, the goals of the physician and patients are in complete alignment.
For example, perhaps an older patient with spinal stenosis would like to improve their ability to walk. The patient may not need a major spinal fusion if they only want modest improvements. Instead, we can develop targeted physical therapy programs, perform targeted injections, and come up with plans for other assistive devices that might help them accomplish their functional goal.
On the other end of the spectrum, some patients with more robust goals in mind, like a running a marathon, may need earlier surgical consultation. These are the kinds of considerations that physiatrists are trained to incorporate into their treatment plans. In this specialty, the focus is on function and helping people get better the way they want to get better.
Advantages of Multidisciplinary Care
Back pain is such a ubiquitous problem that so many people struggle with on a daily basis. And unfortunately, people often think there is not much they can do about it: either live with the pain or undergo major spine surgery. Dealing with intense pain every day can be incredibly debilitating, so to be able provide a middle ground between living with the pain and major surgery can have a significant impact on someone's quality of life.
Part of what attracted me to this field is being able to provide care for so many people, especially those who might not know that this middle ground exists. Many patients may not even see specialists for their back pain, but there are other options (including non-surgical) for treatment. Being able to provide that in a large academic setting is truly a dream.
One of the greatest strengths of the UCSF Spine Center is that we are all focused on the same part of the body, but we are different types of doctors. It benefits the patient to have multiple types of physicians in the same group, so they can see specialists for both surgical and non-surgical therapy, sometimes even with same-day evaluations. It is more convenient, faster, and allows for overall better outcomes.
New Technologies in Treating Back Pain
For a long period of time, one of the hardest diagnoses to deal with in our field was discogenic back pain. The pain was thought to originate in the disc itself, but new evidence suggests that it derives from the vertebral body endplates, the bone surrounding the disc.
A new minimally invasive procedure called basivertebral nerve ablation uses radiofrequency ablation to target the basivertebral nerve in the vertebral body. I treated several patients with this procedure during my fellowship, with patients reporting long-term pain relief even five years later. This therapy is limited to a specific subset of patients, but so far the results are quite profound.
The Best Part of Being at UCSF
UCSF is a world class institution that is among the top ten hospitals in the nation and ranked #2 in neurosurgery. As a top medical school in the country, UCSF also offers the chance to train and develop the next generation of physicians. The opportunity to work with internationally recognized physicians and researchers, to treat a diverse patient population, was one I could not pass up.
---
Specialties
Electrodiagnostics/EMG
Fluoroscopic Spine Injections including:
Lumbar Epidurals
Thoracic Epidurals
Cervical Epidurals
Medial Branch Blocks
Radiofrequency Ablations
Discography
Facet Joint Injections
Sacroiliac Joint Injections
Peripheral Joint Injections
Basivertebral Nerve Ablation
Ultrasound Guided Injections including:
Glenohumeral Joint
Subacromial Bursa
Biceps Tendon
AC Joint
1st CMC Joint
DeQuervain's
Hip Joint
Gluteus Medius
Hamstring Tendon
Knee Joint
Dr. Barrette is accepting new patients and referrals at the UCSF Spine Center and at the UCSF Neurosurgery Specialty Care Clinic in Marin. 
UCSF Spine Center
400 Parnassus Ave, 2nd Floor
San Francisco, CA 94143
Phone: 866-817-7463
Neurosurgery Specialty Care Clinic in Marin
1100 S. Eliseo Drive, Suite 1
Greenbae, CA 94904
Phone: (415) 514-6868