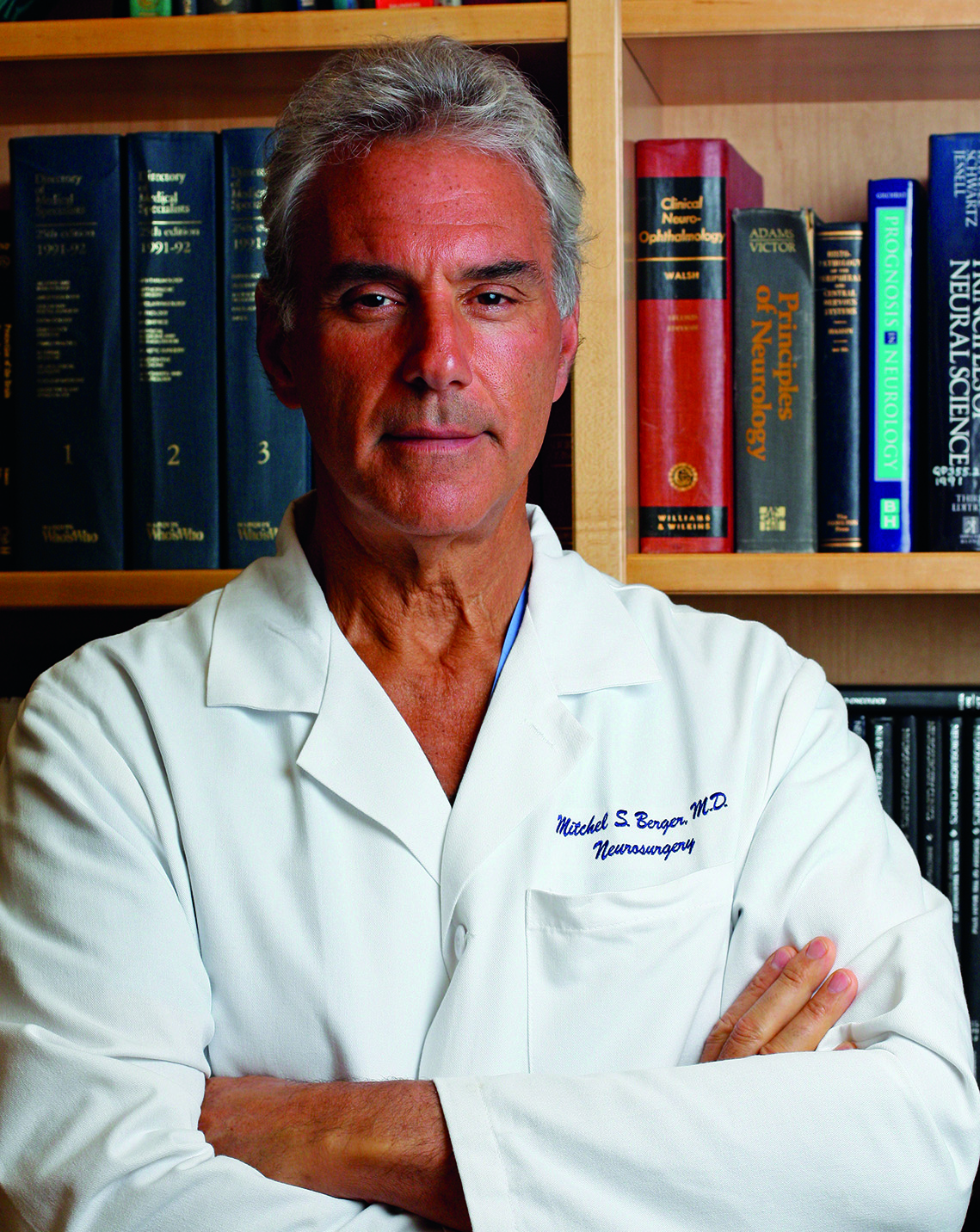 Mitchel S. Berger, MD, FACS, FAANS, recently completed his 23-year tenure as Chair of Neurological Surgery at UCSF, leaving a legacy that has changed the field of neurosurgery and passing the baton to Edward Chang, MD, whom he trained as a neurosurgical resident.
Berger received his bachelor's degree from Harvard University in 1974 and his medical degree from the University of Miami School of Medicine in 1979. He then entered UCSF's neurosurgical residency program, training under Charles Wilson, MD.
After graduation, he underwent fellowship training in pediatric neurosurgery at the Hospital for Sick Children at the University of Toronto, before becoming a faculty member in the Department of Neurosurgery at the University of Washington. In 1997, he returned to UCSF to take over the position of Department Chair from Wilson.
During his time as Chair, he expanded the Department of Neurological Surgery into every subspecialty, building on the foundations of translational brain tumor research established by Wilson, and dramatically expanding them into all areas of neurosurgery. He strategically recruited surgeons who would integrate their clinical practice with basic science and technological innovation, focusing the entire enterprise on bringing new and better therapies directly from the lab bench to the bedside of patients.
Today the Department is unrivaled in the depth and breadth of its programs and faculty, excelling in all areas of research, education, and clinical care. Berger led the Department to be the top recipient of NIH research funding among public institutions for 20 years – largely thanks to its expansive brain tumor and central nervous system injury programs. UCSF's neurosurgical residency program is one of the most competitive in the nation and has been ranked the program with the best reputation by Doximity. In 2020, US News and World Report named UCSF's neurosurgery and neurology programs #2 in the nation (they have been ranked in the top five since 2007).
As a neurosurgeon, Berger is perhaps best known for his technical expertise in removing brain tumors and for bringing awake brain mapping, first established by George Ojemann for surgical treatment of epilepsy, to the field of brain tumor surgery. He has since refined it, publishing nearly 40 research articles and giving over 150 presentations on the topic around the world.
In 2008, with Nader Sanai, MD and Zaman Mirzadeh, MD, PhD, Berger published a study in the New England Journal of Medicine that described a new technique called "negative brain mapping." They showed that mapping negative language sites enables surgeons to resect tumors with the same ability to protect functional areas as achieved with positive mapping, but in less time and with less exposure. Their work created composite cortical language maps that showed that areas processing language function in the brain are widely distributed, sometimes varying in location by as much as several centimeters from patient to patient. This finding challenged previous language organization models, which were based on the assumption that specific language functions had fixed anatomical locations. The revised anatomy defined in this study represented a comprehensive set of language coordinates that now serves as a guide for neurosurgeons to plan operations more safely and effectively.
Berger and his colleagues have unequivocally shown that a greater extent of resection can increase survival for patients with both low-grade and high-grade glioma, making precise brain mapping a critical component of surgery for these tumors. In a paradigm-shifting study published this year in JAMA Oncology, he and other investigators at the UCSF Brain Tumor Center took this concept one step further by determining that extending resection to include non–contrast-enhancing tumor as well as contrast-enhancing tumor is associated with increased survival, regardless of tumor genetic subtype.
Under Berger's leadership, UCSF has been home to the longest-running NCI Specialized Program of Research Excellence (SPORE) for brain tumors in the nation – it is the only institution to receive consecutive cycles of SPORE funding for brain tumor research since the funding mechanism was introduced in 2002. UCSF's Brain Tumor Center is also in its ninth cycle of Program Project Grant (PPG) funding. The findings from the PPG and SPORE programs have led to new genetic classifications for brain tumor subtypes by the World Health Organization and have defined noninvasive metabolic imaging biomarkers of disease, response to therapy, and progression.
An undisputed luminary in the field of neurosurgery, Berger has received many distinguished awards throughout his career, including the Winn Prize from the Society of Neurological Surgeons, the Victor Levin Award from the Society of Neuro-Oncology, and the Charles B. Wilson Award from the AANS/CNS Joint Section on Tumors.  A talented educator, he served as the Director of the Department's residency training program from 1997 to 2003, and he has been given the Rosegay Teaching Award by UCSF's neurosurgery residents – an award that recognizes a faculty member who has made one of the most significant impacts in their training.
Berger has served as president of the American Association of Neurological Surgeons, the Society of Neuro-Oncology, and the American Academy of Neurological Surgery. He has also been a director of the American Board of Neurological Surgery and a member of the Board of Directors of the American Association of Neurological Surgeons. In 2016, Vice President Joe Biden named him to the Blue Ribbon Panel of scientific experts for the National Cancer Moonshot Initiative.
In the years to come, Berger will continue to be at the helm of UCSF's Brain Tumor Center, working to further expand its world-renowned research and clinical trials programs to bring new and better therapies to patients with brain tumors.