Charles Wilson, MD, a world-renowned neurosurgeon and UC San Francisco professor emeritus, who served as chair of UCSF's Department of Neurological Surgery for nearly 30 years and founded the University's Brain Tumor Research Center, has died. He was 88.
Wilson passed away on Saturday, February 24, of natural causes.
A visionary physician-scientist, gifted surgeon, and dedicated teacher and mentor, Wilson approached every aspect of his life and career with the utmost commitment, precision and rigor. From his meticulous skill in the operating room to his jazz piano acumen and passion for running marathons, 'Charlie,' as he was widely known, nurtured his natural talents with a steadfast diligence that made him seemingly unstoppable.
"Charlie was a force to be reckoned with and was one of the great mentors in my life," said Mitchel Berger, MD, UCSF's current chair of neurosurgery, who worked closely with Wilson both as a trainee and as a colleague. "He taught me to strive for excellence 24/7 and to bring my 'A' game every day. To him, there was no room for error. Perfection was the only option."
Berger recalled the "extraordinary experience" of watching Wilson at work in the operating room for the first time when he was a resident at UCSF, and noted how seeing someone who was "so insightful and so technically gifted" turned his whole career around.
"He taught me the pride of being not just a neurosurgeon, but a faculty member at UCSF and how meaningful it is to work in this environment, at an institution where we can achieve things that cannot be achieved elsewhere," Berger added.
Francie Petrocelli, Wilson's wife of nearly 25 years, described her husband as "one of the kindest people I've ever known, with a keen wit, infectious laugh and a wildly generous heart. We shared a love of music, travel and family."
Petrocelli met Wilson on the UCSF campus, where she worked as an assistant chancellor, and fondly recalled the day a note from Wilson arrived at her office, asking – in his famously concise manner – if she would like to attend the opera with him that Friday evening.
Wilson's signature tenacity and succinctness guided him each day in the operating room, where, at the peak of his career, he performed 15 surgeries a week. He took a particular interest in pituitary disorders, those affecting the pea-sized 'master gland' at the base of the brain responsible for controlling the body's hormone levels. He was a pioneer of transsphenoidal surgery – the endonasal approach for removing pituitary tumors – and performed more than 3,300 of these procedures at UCSF Medical Center. In 2002, the Pituitary Network Association presented Wilson with the First Annual Gentle Giant Award, recognizing his outstanding dedication to the field of pituitary and endocrine medicine.
In addition to his surgical prowess, Wilson was an exacting scientist and made significant contributions to the neurosurgical and neuro-oncology literature with his extensive patient evaluations and animal models of brain tumors. He developed a comprehensive master research plan to effectively treat and, ultimately, cure malignant brain tumors, and was among the first physician-scientists to coin the term 'translational research.'
"He was a true master of his art, driven by purpose, devoted to his patients, and dedicated to set an example for the next generation," said School of Medicine Dean Talmadge E. King, Jr., MD.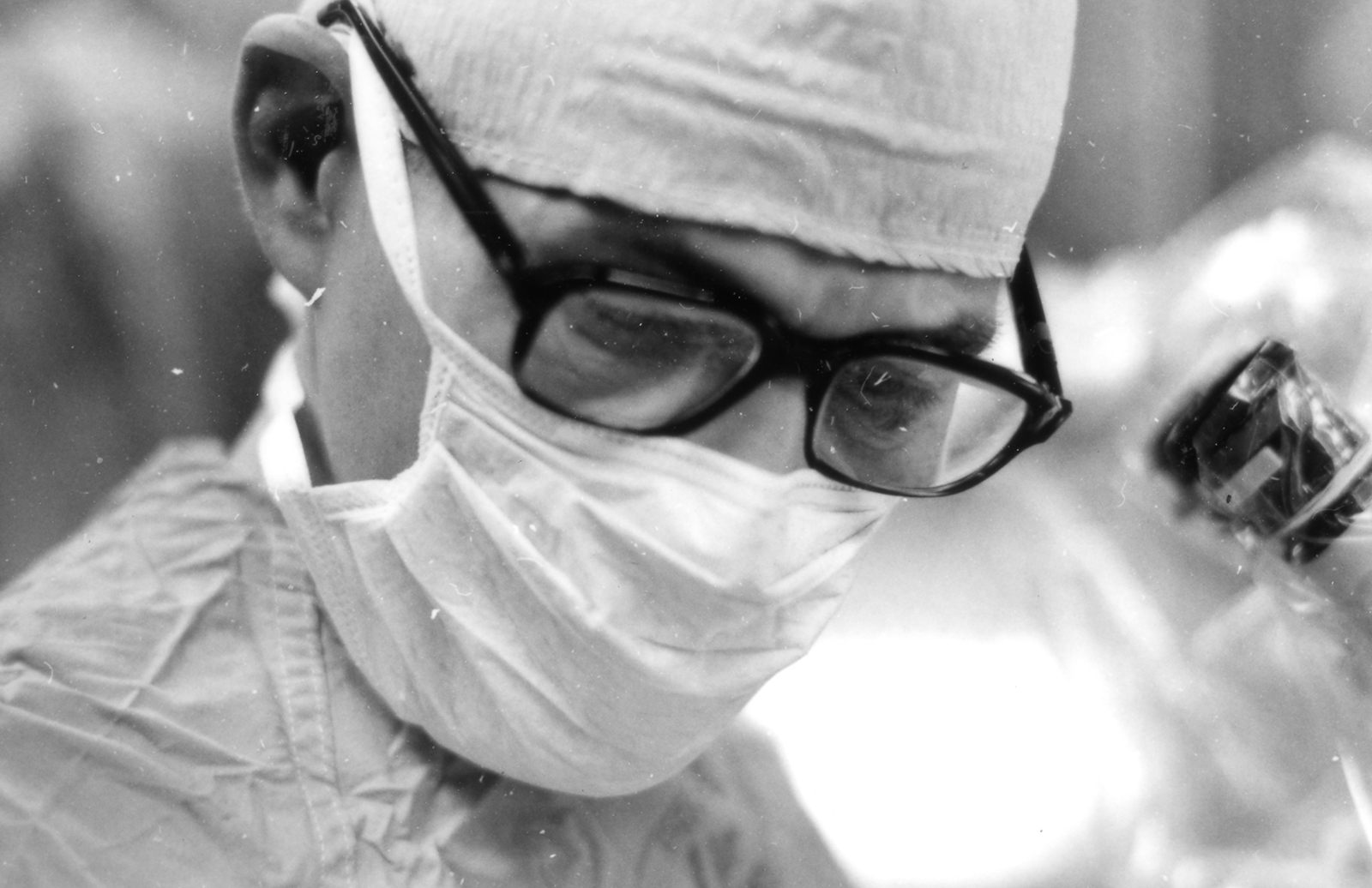 In a 1999 feature in The New Yorker exploring the concept of physical genius, journalist Malcolm Gladwell referred to Wilson as "one of the superstars" of neurosurgery, comparing his talents to those of cellist Yo-Yo Ma and hockey star Wayne Gretsky. What the three men had in common, according to the story, was a perfectly attuned ability for "translating thought into action," a "special feel for the game," and "obsessive preparation."
Observing Wilson in the midst of a pituitary tumor resection, Gladwell wrote, "In the hands of an ordinary neurosurgeon, the operation … might have taken several hours. It took Charlie Wilson twenty-five minutes."
Although Wilson was one of a kind, his skill reverberates through his many practicing disciples, many of whom are today's most important neurosurgeons and chairs of academic training programs around the country, according to Philip Theodosopoulos, MD, UCSF's vice chair of neurological surgery.
"Perhaps the quote I remember the most from him was when he told me, 'Phil I don't care what you do, whatever it is be the best at it. Whether you cut the grass or take a brain tumor out, excellence is what matters.' I will miss him as a mentor, a trusted advisor who never shied away from the truth, and a true dear friend."
Charles Byron Wilson was born August 31, 1929, in Neosho, Missouri, a town of 5,000 people in the heart of the Ozarks. His mother, a homemaker, and father, a pharmacist, were childhood sweethearts. Growing up, Wilson excelled as a student, musician and athlete. His talents in both the classroom and on the field as a running back earned him dual academic and football scholarships to Tulane University.
Wilson graduated summa cum laude from Tulane in 1951 and went on to receive his medical and neurosurgical training at the Tulane School of Medicine, where he played jazz piano in the French Quarter to support himself and graduated first in his class in 1954.
After completing his residency, Wilson joined the Tulane faculty with joint appointments in pathology and neurosurgery before accepting the position of assistant professor of neurosurgery at the Louisiana State University School of Medicine from 1961 to 1963. He relocated to Lexington, KY in 1963, where he established the Division of Neurosurgery at the University of Kentucky.
Wilson's next move was to San Francisco in 1968 after being invited to join UCSF as professor and chairman of the University's Neurosurgery Division. By 1970, he had established both the Department of Neurological Surgery and the Brain Tumor Research Center (BTRC), an internationally recognized treatment and research center that has been continuously funded by the National Institutes of Health since 1971.
As the chair of neurosurgery, the director of the BRTC, and the first professor to hold the Tong-Po Kan Chair of Neurological Surgery at UCSF, Wilson charged forward in developing the University's integrally related, translational program of basic science and clinical research into the biology and therapy of brain tumors.
Susan Chang, MD, director of UCSF's Division of Neuro-Oncology, who worked closely with Wilson and considered him a dear friend, regarded his multidisciplinary approach to patient care as transformational to the field of neurosurgery. Wilson encouraged Chang to join his team, even though she was trained as a medical oncologist, not a neurosurgeon, because he saw the benefits of having a variety of clinicians and researchers working together to improve the lives of patients.
"Charlie always told me, 'you're only as strong as your weakest link.' He surrounded himself with outstanding people because that's how he got the job done," Chang said. "He was hard. He pushed people, but in doing so, he brought the best out of people."
Wilson also worked tirelessly to address severe challenges in the health care delivery system, and during the 1990s, served as senior associate on medical affairs to the president of the University of California. Ever the star student, he obtained a master's degree in health administration in 1996, and, upon retiring from surgical practice in 2000, went on to co-found the Global AIDS Interfaith Alliance and serve as a director at the Institute for the Future.
Among his countless accolades, Wilson sat on the National Cancer Advisory Board of the National Cancer Institute from 1992-1998, was a senior member of the Institute of Medicine, a member of the prestigious Society of Neurological Surgeons, and a principal advisor to the National Brain Tumor Foundation.
Wilson also took pride in his heritage as one-eighth Cherokee Indian and spent a great deal of time meeting with and mentoring Native American students at UCSF.
He is survived by many loving family members and dear friends, including his wife, three children, and six grandchildren, and was preceded in death by a son.
The family will hold a memorial service on March 11 at Wilson's longtime church in Belvedere, CA. The Department of Neurosurgery will hold a University-wide memorial on March 29, from 8-9 a.m., in room N225 on the Parnassus Campus. Those wishing to attend are asked to RSVP to [email protected].